Beauty & Self
Books & Music
Career
Computers
Education
Family
Food & Wine
Health & Fitness
Hobbies & Crafts
Home & Garden
Money
News & Politics
Relationships
Religion & Spirituality
Sports
Travel & Culture
TV & Movies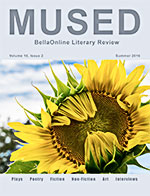 For many people, summertime is the perfect time to explore creativity. Plein air artists bring easels to gardens and beaches, showcasing nature's colors in oils, acrylics, and watercolors. Photographers ferret out a million sights to immortalize. Poets and writers stretch languidly beneath a shady oak tree, listening to the gentle buzz of insects, and constructing entire worlds out of the ether.

Enjoy the creativity of our community of artists - and then explore your own! We'd love to see your works for upcoming issues!

Summer Solstice 2016 issue of Mused

Blue Bacon & Potato Patriotic Pizza Recipe
Quick Cooking - Karen Hancock, Editor

Stars and Stripes are always in style on patriotic holidays. This pizza is quite unconventional, but it's festive and delicious.




Patriotic Cakes and Firecrackers to craft
Crafts for Kids - Launa Stout, Editor

Kids love to help with these cakes and they are proud to show off what they "made" or "decorated".




Sewing Denim
Sewing - Cheryl Ellex, Editor

Instantly familiar, endlessly versatile, at once old and new, the fabric we know as denim and the many clothes, accessories, and home items it has so readily adapted to, has enjoyed steady popularity since the mid 1800s.




Independence Day Resurgence Movie Review
Action Movies - Dianne Walker, Editor

Twenty years ago we won the war. Or did we? The alien queen is back and the world is once again in the fight for it's very existence. Liam Hemsworth, Jessie T. Usher join Bill Paxton and Jeff Goldblum in this action-packed sequel...Independence Day - Resurgence.




Six Signs of a Spiritual Awakening
New Age - Deanna Leigh Joseph, Editor

Since we have entered into the age of Aquarius, people seem to be experiencing a spiritual awaking, and this seems to happen in waves! 

Here are the signs you may be going through a spiritual awakening!




Roasted Corn and Red Pepper Salad Recipe
Holiday/Seasonal Cooking - Allyson Elizabeth D´Angelo, Editor

My Roasted Corn and Red Pepper Salad recipe is easy to make, full of flavor and uses fresh corn kernels which are slightly roasted and added to aromatics that will make your taste buds go crazy! This is ideal as a side for cookouts or indoors with practically anything you wish. Enjoy!


| Google+ |
E D I T O R R E C O M M E N D E D
From Pain to Parenthood


Follow one woman´s incredible and heartfelt journey from the pain of miscarriages to the joy of becoming a parent through adoption. Filled with honest, raw emotions and helpful coping tips, "From Pain to Parenthood" promises to touch your life with a real story that shows the power of the human spirit and the beauty of a mother´s love.
TomTom ONE 130s GPS


Looking for a great GPS unit for your car? The TomTom ONE 130s is a great, moderately priced GPS system with text to speech capabilities. Spoken street names and TomTom´s EasyPort mounting system make this a terrific GPS unit!
Eagle One is 2nd to None!


Everyone should have the basics to keep their rides shiny and road ready. The only way to do it is with Eagle One all day long!