Beauty & Self
Books & Music
Career
Computers
Education
Family
Food & Wine
Health & Fitness
Hobbies & Crafts
Home & Garden
Money
News & Politics
Relationships
Religion & Spirituality
Sports
Travel & Culture
TV & Movies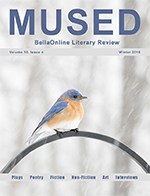 Sometimes it seems as if winter quotes make winter out to be a necessary evil which exists only for us to appreciate the subsequent warmth. Shelley: "If winter comes, can spring be far behind?" Shakespeare: "Now is the winter of our discontent made glorious summer by this sun of York." Hugo: "Laughter is the sun that drives winter from the human face."

But winter is far more than a down against which to compare the subsequent ups. Winter is a powerful, magical time. It is a season of strength. Of looking inward and finding focus. Bob Seger stated, "I write probably 80 percent of my stuff over the winter." Terri Guillemets reminds us, "The color of springtime is in the flowers; the color of winter is in the imagination." The Winter Solstice is a time to embrace the mysterious. The endless possibilities. The sense that we already have, within ourselves, boundless creativity and opportunity. We simply have to still ourselves and listen.

Winter is a powerful season. It gives us that space to look back and learn from our history. To look forward and envision what we wish to become. To be fully mindful of the present and be aware how each day has potential for us to speak out and impact the way our world proceeds. To move us toward peace, fulfillment, and an appreciation of what each of us has to offer.

Happy Winter Solstice.

Enjoy the Mused Winter Solstice 2016 Issue



Wix Parallax Effect
Flash and Animation - Diane Cipollo, Editor

One nice animation found on Wix websites is the parallax scrolling effect. It's not a true animation but it does add the illusion of movement, depth and dimension to your webpage.




Clear up congestion
Allergies and Colds - Sheree Welshimer, Editor

Try some drug-free therapies to open up your stuffy sinus passages




Black Seed Oil And Male Fertility
Infertility - Hannah Calef, Editor

Black seed oil - nigella sativa - may help multiple aspects of male fertility




Suicide Squad
Movie Mistakes - Isla Grey, Editor

A team of renowned criminals must join forces to save the world. Try to find these movie mistakes in "Suicide Squad".




Turning a Profit with Crochet at Handmade Shows
Crochet - Holly Messenger Aamot, Editor

Your skill as an artisan can be a hot commodity. Here, we'll explore how you can "bring home the bacon" by selling your items at live shows.




Pomegranate in Ancient Times
Landscaping - Connie Krochmal, Editor

Pomegranate is among the oldest cultivated fruits. By around 4000 B.C., it was grown in Iran and Turkey.


| Google+ |
E D I T O R R E C O M M E N D E D
Original Cat Design Products


From Cafepress - Purchase a wide varity of quality products, from t-shirts to magnets, tote bags to mugs and much more, with this original cat design, created by the editor of the Cats Site.
How to Buy Your Next Car


A true car buying expert explains in detail how to buy your next car. From credit and financing to dealer cost and sales tactics, "How to Buy Your Next Car" is full of insightful information to help you avoid making typical car buying mistakes.
Making and Dressing Cloth Dolls


This ebook contains patterns and step by step instruction for making 5 different cloth dolls. These are some of the most popular dolls on the Doll Making Site all together in one handy book.