Beauty & Self
Books & Music
Career
Computers
Education
Family
Food & Wine
Health & Fitness
Hobbies & Crafts
Home & Garden
Money
News & Politics
Relationships
Religion & Spirituality
Sports
Travel & Culture
TV & Movies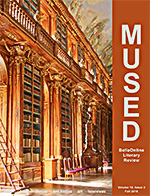 The autumn equinox, that balance point of light and dark, is closely tied to the moon. In China the Moon Festival happens around the autumn equinox, celebrating gratitude and the warmth of good friends and family. This year it was Sept 15th. Our last eclipse of 2016 was a penumbral lunar eclipse on Sept 16th. It fell in conjunction with the full harvest moon, also a symbol of thankfulness and appreciating those who care about you. The autumn equinox is a perfect time to add to those celebrations. It's a wonderful moment to treasure all we have and to share warmth with those who support us.

Autumn Equinox 2016 issue of Mused

Some Mulberry Varieties
Landscaping - Connie Krochmal, Editor

A number of mulberries are available for landscapes. Here are profiles of selected ones.




Is Disneyland Really the Happiest Place on Earth
Family Travel - Tiffiny Spire, Editor

Visiting Disneyland or another theme park? Use this list of solutions to help you and your family avoid the most common problems associated with visiting amusement parks.




Preventing sinusitis
Allergies and Colds - Sheree Welshimer, Editor

An ounce of prevention is worth a pound of cure.




Ghastly Green Ghoul Guts Recipe
Quick Cooking - Karen Hancock, Editor

If you're still looking for a perfect dish to serve at the annual Halloween BOO-ffet, this spicy, delicious shredded chicken filling with Mexican flavors is fabulous and can be served on all kinds of Halloween buns.




Top 5 Ways to Update Your Body Care Routine
Body Care - BB Lee, Editor

Think about those parts of the body that are typically ignored. It's about time to start giving those areas more personal care and attention.




Surprise Island - book review
Children's Books - Launa Stout, Editor

The Alden Family/Boxcar Children series continues with Surprise Island. The Alden children spend summer vacation on the family's private island.


| Google+ |
E D I T O R R E C O M M E N D E D
LoMásTv


Highly recommended product, if you really want to improve your Spanish. While watching the video you have the option to read, in subtitles, the words in Spanish and, if you also chose it, you can read the translation (in English) for it. Simply... ˇGenial!
Giada´s Kitchen


In this book each recipe is a burst of taste, colors and combination of flavors; the instructions are really easy to follow for anyone, and the final result of virtually every dish is presented in a beautiful arrangement of photographs.
The Killer Angels by Michael Shaara


Best historical novel ever, and I don´t even like most historical novels. Epic and unforgettably intense! Among other things, reading this will teach you how to hook your readers through writing strong character emotion.