Beauty & Self
Books & Music
Career
Computers
Education
Family
Food & Wine
Health & Fitness
Hobbies & Crafts
Home & Garden
Money
News & Politics
Relationships
Religion & Spirituality
Sports
Travel & Culture
TV & Movies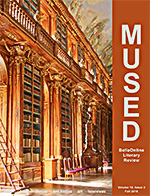 The autumn equinox, that balance point of light and dark, is closely tied to the moon. In China the Moon Festival happens around the autumn equinox, celebrating gratitude and the warmth of good friends and family. This year it was Sept 15th. Our last eclipse of 2016 was a penumbral lunar eclipse on Sept 16th. It fell in conjunction with the full harvest moon, also a symbol of thankfulness and appreciating those who care about you. The autumn equinox is a perfect time to add to those celebrations. It's a wonderful moment to treasure all we have and to share warmth with those who support us.

Autumn Equinox 2016 issue of Mused

How To Cruise With Carry On Luggage Only
Cruises - Nancy Schretter, Editor

Airline travel is often plagued with tight flight connections and cancellations, which can sometimes cause baggage to be lost or delayed. As a result, many vacationers now want to travel with only carry-on luggage. Here are ten steps that show how to pack and cruise with carry-on luggage only.




Discover Diverse St. Petersburg, Florida
Senior Travel - Hazel M. Freeman, Editor

St. Petersburg Florida is known for its beaches, but it also has an incredible amount of special events, numerous art galleries and museums, great shopping, a state-of-the art museum for children (and grandchildren), and accommodations to match any budget. Guest author Eve Carr shows us around.




Joel's Timeless Message
Christian Living - Lynne Chapman, Editor

Joel was a prophet from about 835 to 796 BC. His name means Yahweh is God. His book in the Bible contains a message for us today.




Shopping to go see the three A's in Tennessee
Romantic Getaways - Marianne de Nazareth, Editor

Looking forward to spend time with the kids in Tennessee.




Clara Barton
History - Vance Rowe, Editor

Clara Barton helped form the American Red Cross after her visit to the International Red Cross in Europe during the Franco-Prussian War. She served as the American Red Cross's first president.




XYZ Social Media Auto Publish Plugin
Flash and Animation - Diane Cipollo, Editor

If you want to get your video and animations noticed on the big wide web, you need to do some social marketing. The XYZ SMAP Social Media Auto Publish is one option for auto publishing to your social networks directly from your Wordpress site.


| Google+ |
E D I T O R R E C O M M E N D E D
Golf Rules Illustrated


Beginning golfers should have this book as they learn the game of golf and experienced golfers should refer often for reference. Knowing the proper etiquette with help you enjoy the game. Published by the United States Golf Association.
Spectorsoft EBlaster 6.0 Security and Monitor Soft


Installed in less than five minutes the eblaster software monitors the online activity of children. Providing email alerts to the designated email whenever a child receives or sends an email. Also, allows monitoring of chat rooms, key strokes, and instant messages. See who is talking to your child online.
Ultra Luster Waterless Car Wash


Ultra Luster Waterless Car Wash: Article Coming in Spring but you can buy it now! Waterless Car Washing just got easier and the results just got better! Get yours now at: UltraLuster Wash, Phone: 877-677-4463, Email: sales@ultralusterwash.com, distributors@ultralusterwash.com shipping@ultralusterwash.com customerservice@ultralusterwash.com